Like most fly fishermen, we are always looking for a special salmon river patterns. Generally, for Salmon we fish Woolly Buggers and egg patterns with some exceptions on the Salmon River and other streams. 
Last year the King Salmon run was widely dispersed. We never saw so many single salmon moving up river. Normally we see pods of six fish to a few hundred running at once. The Fall of 2014 was different. This presents two problems for the fly fisherman. (1) Not as many fish. Yea, I know, very obvious. (2) Kings, and Cohos, are much more aggressive, much more likely to hit, when in a group. Last year we saw little aggressive behavior; chasing other Salmon or moving for a fly.
Below are some patterns we noticed on the Internet and we are going to give them a shot this season on the Salmon River. One reason for the selection is these are simple patterns and you know how many flies you lose to the river and/or the fish!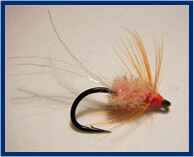 Scott's Miracle Fly
Hook: Daiichi 2571, #6 or 8
Tail: Flashabou, Glow in the dark – started at halfway point on hook
Body: Fluorescent chenille in either orange,chartreuse, or pink
Hackle: Orange, chartreuse, or pink – two turns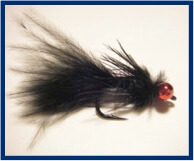 Big Ballzeyes
Hook: Daiichi 2571, #2, 4, 6
Tail: Rabbit strip black or chartreuse about 1" long
Body: Ice chenille or dub, black or chartreuse
Hackle:  Black hen (black version) & brown for chartreuse version
Eyes: Green, red or blue plastic eyes, large
Note: Can be used as dead drift or as a swinging fly.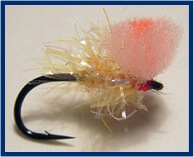 Crystal Eggs
Hook: Daiichi 2571, #6
Body: Crystal chenille, peach, orange, pink or chartreuse
Wing: Egg yarn, light yellow with a red, cerise, or orange dot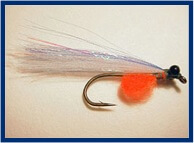 Karl's Art Fly
Hook: 1710 or 1750 Daiichi, #4 to 8
Yolk: Egg yarn–I use McFlyfoam
Wing: DNA Holo-Fusion, white followed by blue
Eyes: Plastic bead eyes
See you on the River!
"Rock" Rockwell, USA Ret.
Zero Limit Adventures
NYS Licensed Guide 
Douglaston Salmon Run Approved Guide & River Walker