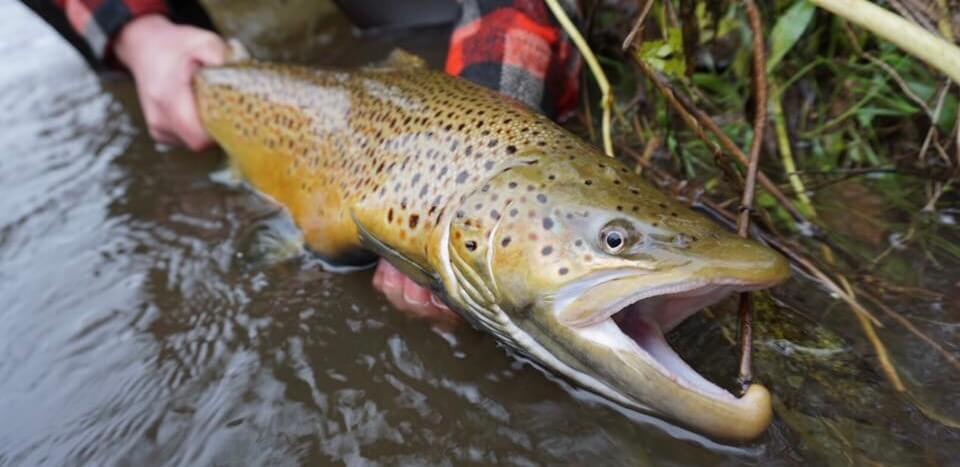 Western New York Tributaries are commonly known for their Lake Run Trophy Brown Trout. In late October through March, WNY tributaries fill with monster Lake Run Trophy Brown Trout. Besides New Zealand, there are not many other places in the world where you can catch healthy giant Trophy Brown Trout. Between the cities of Buffalo and Rochester, NY there are many streams where fly fisherman find success in catching that Trophy Brown Trout of a lifetime. Zero Limit Adventures enjoys nothing more than the fight of a world class Trophy Brown Trout.
Fall
From Late October until December, Lake Run Trophy Brown Trout fill the tributaries looking to eat and spawn. Fall is a very rewarding time and this is when an angler will typically find the 18-20 lb Browns.
Winter
A large population of Trophy Brown Trout will remain in the tributaries throughout Winter.  Occasional rough elements of Mother Nature, Winter Lake Run Trophy Brown Trout fishing can be very rewarding.
Spring
With rising temperatures and winter runoff, the rivers fill with Lake Run Trophy Brown Trout. The mix of holdover Lake Run Trophy Brown Trout and a fresh Spring run give plenty of fish for anglers to catch.
Lake Ontario holds numerous fish species that enter the New York tributaries through the late Summer until the end of Spring. Some of our favorite fishing comes in Fall when we experience a run of Trophy Brown Trout that can grow longer than 30 inches and weigh over 18 pounds. A typical Fall Lake Run Brown will average anywhere from six to 14 pounds. Almost every tributary to Lake Ontario will experience a Trophy Brown Trout run, but nothing like what Western NY tributaries experience. Other than New Zealand, where the current world record is located, there are few places to catch Trophy Brown Trout that can weigh over 18-20 pounds. 
Trophy Brown Trout will enter the stream in late October and will remain until late Spring. While fishing for these Browns for many years, there is nothing to explain why there is a larger number of Browns to run in the western area compared to places such as the Salmon River. Typically, the first run of Browns are the larger ones and also the majority of them are bucks (male). When these Trophy Brown Trout do rush the tributaries, they have a large food source on which to survive. In the month of October, the stream is filled with Salmon on beds actively spawning.  Trophy Brown Trout have a feeding frenzy during this time and get behind current spawning salmon. Drifting egg patterns may not be the fly fisherman's favorite style of fishing, but it is very effective during this time. Another option is to swing buggers, although your production level may not be as high.
The Trophy Brown Trout spawning cycle will start to wind down in late November. Most browns will hold in the tributaries over the winter. They will look for tail outs and small pools to hold over for the winter.  The egg drift at this point won't be on point like in early November. You will want to ensure if the egg bite isn't on that day, you have the ability to swing or strip a bugger through holding spots on the stream. Browns eat small streamers and many nymphs during the winter. Some of the best spots on the river may freeze at some point during the winter, but that can be a good thing.
Temperatures begin to rise in the late winter/early spring which means it's time to take advantage of hold over browns. Giving them a month or two of no pressure on the stream means they are hungry. This also results in a runoff from the winter's snow. Tributaries will become high and dirty and fishing may be rough but not enough to keep one off the stream. There are plenty of spots on the Western NY tributaries that are still fishable and will result with many hook ups. The high rain also results in another push of Trophy Brown Trout into the water, giving more opportunities for hook ups. The Spring run of Browns don't have the number or size like the Fall,  but there are not as many anglers on the water.
Trophy Brown Trout may not be as acrobatic as a Steelhead on the swing, but the fight is very powerful. Hooking into heavy Brown male or female Trophy Brown Trout will truly test your angling skills. The term "bull dogging" is famous for how these fish fight. They will take their heads and bury them right down into the current. It feels at times like fighting a tree stump in the water. Lake Ontario provides fly fisherman rare opportunity in the water tributaries for world class Trophy Brown Trout. Taking advantage of this opportunities is a must for any fly angler.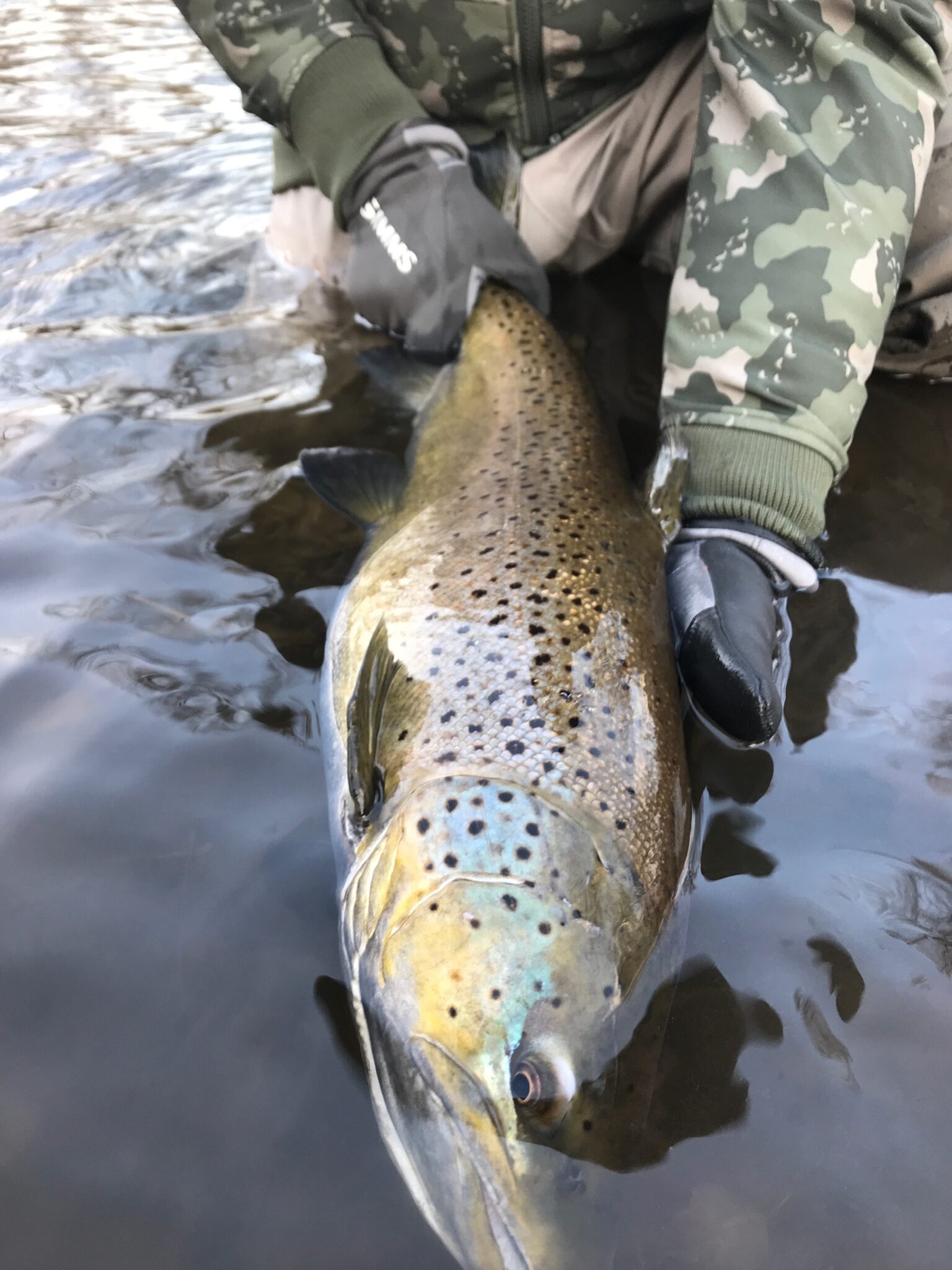 Looking to experience the raw power of king salmon, trophy brown trout and steelhead or the beauty of browns, rainbows, and brook trout? Let Zero Limit Adventures put you in a position to do so. Our diverse team of guides are experienced, qualified, and equipped to provide patient instruction, remain positive, and remember the little details.We promise to do everything to the best of our ability to put your family, friends or clients in front of fish and ensure you have the adventure of a lifetime!
1 Person Guided Trip
$495
2 Person Guided Trip
$495
3 Person Guided Trip
$595
Give a Gift!
Give the Gift of Fishing this Holiday Season! For $450, two guests will receive a gift of a lifetime.
Have fun and tie something creative "meat" to entice some aggressive Trophy Brown Trout and Steelhead!
Don't break the bank on leaders, here is a simple alternative us guides use every day on the water!
Satisfaction Guarantee
We promise to do everything to the best of our ability to put your family, friends or clients in front of fish and ensure you have the adventure of a lifetime
A One-Stop Shop
Zero Limit Adventures is a well diversified team that fits your needs at all times! Years of experience making lasting memories for a lifetime.
StReam-side Instruction
Need help fine tuning of your teqnique? Fill in the missing piece by enjoying stream-side instruction while fishing with our qualified guides.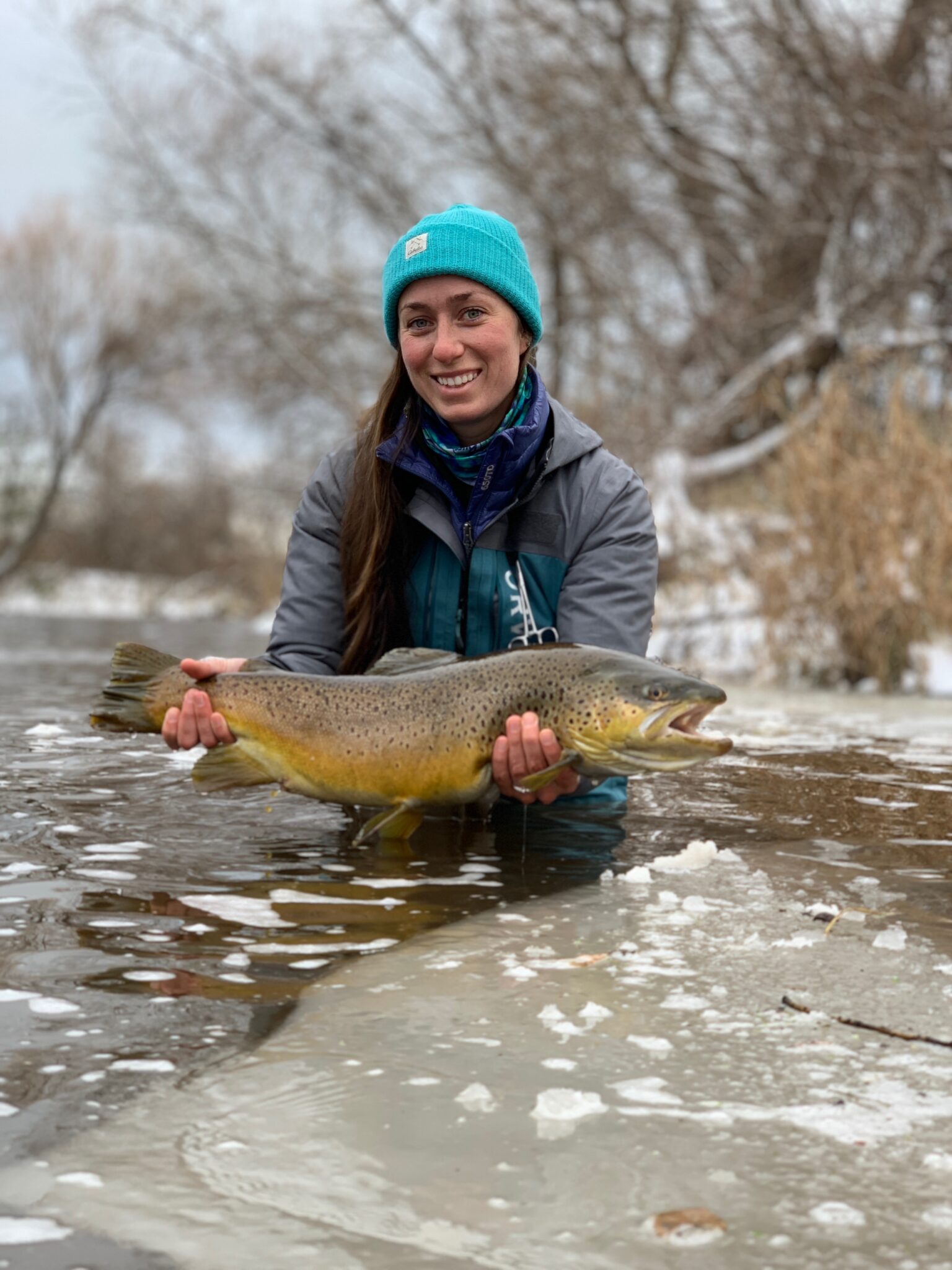 BOOK OR REQUEST MORE INFORMATION